Every
Monday
Style Steals will have a styled "look" on sale. Today is
RubyRed- (Red Striped Loafers $12.95) & FREE SHIPPING w/code RUBYRED
.
Here are tips on styling your Ruby-Red look:
Red:
Taylor Swift's fourth album that went quadruple platinum, the signature sole color of a pair of Christian Louboutins, the carpet leading into our favorite award shows, and the perfect color to make your outfit pop. Because it is bold, it doesn't take much for red to make a statement and tie an outfit together. That's one of the reasons we especially love incorporating crimson hues through our accessories. Now get ready to stop traffic with this strong, self-assured color.
Paired with Neutrals:
Let's just make one thing clear: "NEUTRAL" does not only mean black and white. There's grey, navy, beige, camel, brown, pewter...Plus metallics like gold and silver. Neutrals are those colors that seem to go with everything, but ever find yourself looking to give your neutral outfit a little panache? Enter: Ruby Red. Neutrals play well with this vibrant color and let it take center stage of your outfit.
Paired with Bold Colors:
One more reason to invest in some ruby-colored accessories is how well they pop against the bold colors we love so much too! (Color blocking, anyone?) It's not so much about matching, but complementing. For a more striking contrast, pair your ruby items with a cobalt blue (like we did) or an emerald green. And who doesn't love jewel tones in the fall?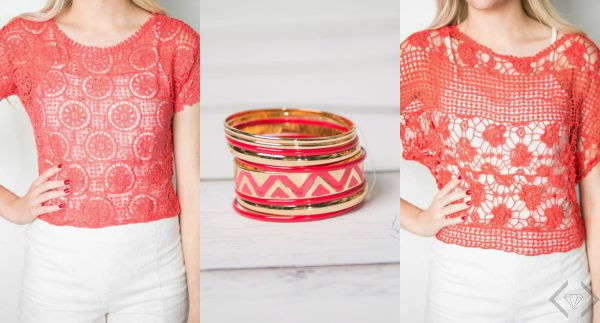 Get this look yourself:
Red Striped Loafer - Steal price: $12.95
Chevron Print Bangle Bracelet Set - Deal price: $4.99
Crochet Circle Pattern Top - Deal price: $7.96
Crochet Floral Top - Deal price: $7.96