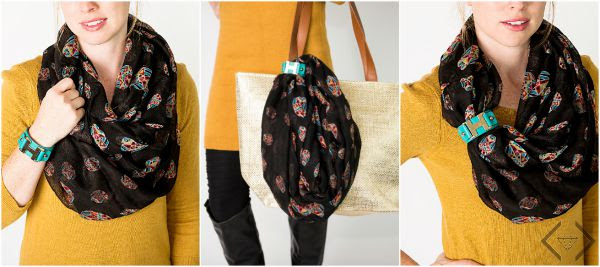 This
Fashion Friday
, Cents of Style is
featuring an aztec bug infinity scarf & cuff bracelet, used in multiple ways as a combo for $9.94! The cuff bracelets and scarves come in many different colors, the color combos are almost endless. What better way to transition to fall than in a stylish way.
Ways to wear this combo:
1. Use the cuff as a scarf accessory
2. Wear them in a traditional way and wear separately
3. Use the cuff to hang from your bag
Scarf & Cuff Combo - $9.94 & FREE SHIPPING
Use coupon code
SCARFCOMBO
. The coupon code will bring the scarf down to $7.95 and when added to your cart the cuff bracelet will be offered for $1.99.
Additionally, with a purchase of any combo they will be offering yet another scarf for only $2.99. This option will be displayed at checkout.