Fans of Nicholas Sparks books rejoice when another one of his beloved books come to life on the screen! This time the movie is based on the #1 New York Times Best Seller - The Best of Me. This is a tender, romantic drama about the timeless power of love, second chances and following your heart. When former high school sweethearts Dawson and Amanda (James Marsden and Michelle Monaghan) meet at a loved one's funeral 20 years after tragedy separated them, their love is reignited. As they recall and relive the past, they come to a deeper understanding about the choices they've made. Also starring Luke Bracey and Liana Liberato, and featuring beautiful scenery along with music by Lady Antebellum, The Best of Me is a powerfully romantic story of love, hope and second chances.
In honor of the release of this film, I was lucky enough to host a tea party featuring Teavana First Blush tea. We were able to gather around and eat, drink tea, watch the movie and discuss! If you are a fan of Sparks and read the book, you know how it ends for Amanda and Dawson. Well Fox is giving them a second chance at happiness in this release with the Tears of Joy alternate ending! I don't want to give too many spoilers away, but the storyline is basically the same as the book and has the same outcome. There are some changes as well. Amanda's mom was an important character in the book and was rarely seen in the film. There is an addition to character their storyline as well as a death scene is different.
Purchase
The Best of Me [Blu-ray]
on Amazon for
$17.99
& FREE Shipping on orders over $35.
As a child we all pretended to host tea parties with our stuffed animals and plastic tea set. Well since this movie is all about second chances, why not have a second chance at a tea party! This time instead of imaginary friends and stuffed animals, call the girls over for a night of laughs, teas and great conversations! The perfect tea for such a party is
Teavana
's limited edition
First Blush Tea
. It is specifically designed tea for Valentine's Day featuring naturally scented Jasmine green tea blended with floral orchid oolong complemented by luscious strawberries, crisp rhubarb and effervescent undertones of bubbly rosé.
here
for instructions on how to brew different varieties of tea!
Another fun pairing tip is to blend iced First Blush Tea with a glass of champagne for a fun and easy to make Teavana cocktail! We had a pregnant gal over, so no cocktails for us this time!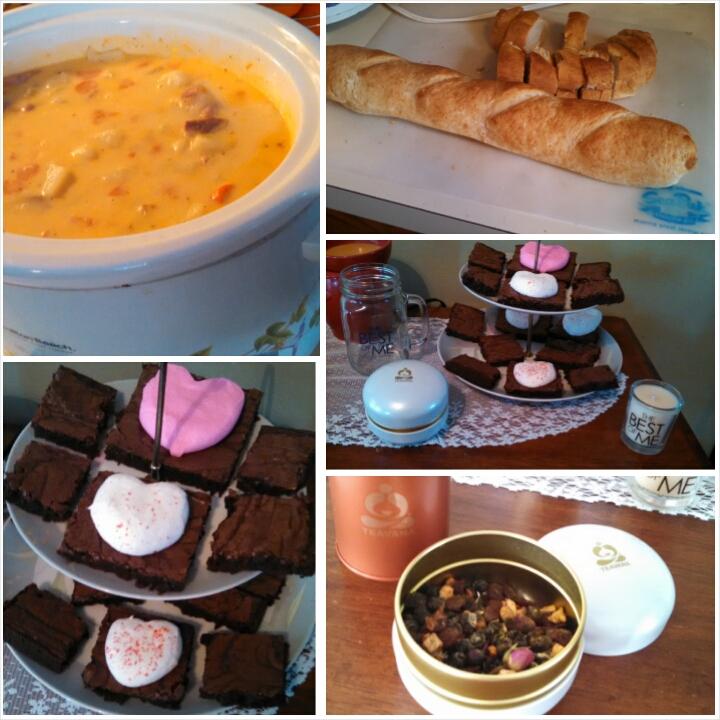 Not only did I serve tea and desserts, but a meal too! Cheesy Potato Chowder and homemade french bread.
Ingredients:
•8 to 12 medium potatoes, peeled and cubed
•3 carrots, diced
• One 32oz container chicken broth
•1 pound process cheese (Velveeta), cubed
•1 teaspoon dill weed
•1/4 teaspoon salt
•1/4 teaspoon pepper
•1/2 pound ham cooked and cubed
•3 cups milk
Directions:
In a large kettle or Dutch oven, cook potatoes and carrots in chicken broth until tender, about 10 minutes. Add the cheese, dill weed, salt and pepper. Cook and stir until cheese is melted. Add ham, and milk. Heat through. Top individual bowls with shredded cheese and bacon.
Stay connect with Teavana
Twitter:
https://twitter.com/TEAVANA
Facebook:
https://www.facebook.com/teavana
Pinterest:
http://www.pinterest.com/teavana/
Instagram:
http://instagram.com/teavanatea